PDG is proud to introduce its new Easy-Out™ front rigging options. The new architecture will enhance user experience through improved performance, quality, and aesthetics. The Easy-Out™ plug-in design has been applied to Swing Away (SA) and the Elevating Leg Rest (ELR), improving ease of removal and refit on all options.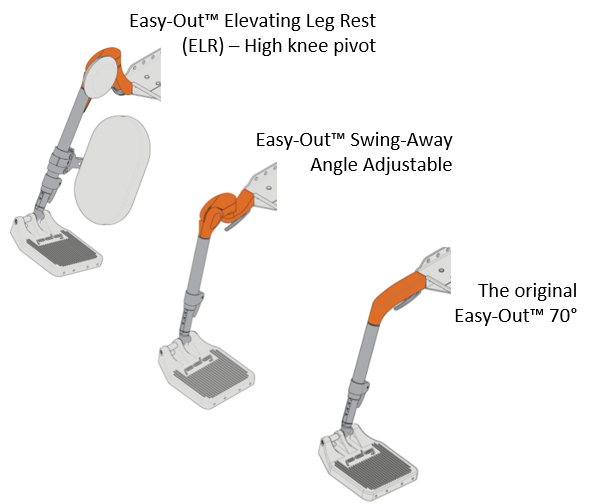 The overall design of the front rigging has been modified to have a much lower profile and footprint.  The front rigging hanger and sector blocks assembled on the upper frames for the current SA and ELR have been completely eliminated, freeing up the space around knee and calf, and facilitating transfers.
In addition to improving aesthetics, expanding the front rigging options using a modular design was a major objective during this development.  The upper hanger is the area of the architecture that changes depending on the selected front rigging option.  It is available in
a fixed 70° angle configuration,
a low configuration for standard SA,
a high configuration accommodating the knee pivot position for ELR.
The Swing-Away option has been enhanced with the addition of swing-in functionality, a simple push button activation, and angle adjustment.
The angle adjustment from 0° through to 110° (in increments of 10°) is completed by loosening the pivot bolt discreetly located under a plastic cap cover, setting the desired angle and re-tightening it.
The locking mechanisms for adjustable features have been improved by means of spring loaded cams and index locking methods. These design enhancements allow for reduction in play and incremental bi-directional locking on the ELR angle adjustment feature. The standard ELR only offers single direction locking.
The front rigging leg rest extension has also been significantly upgraded. This includes a tool-free extension adjustment with the addition of labeling to aid positioning. Additionally, the maximum leg length on the new extensions has been increased from 21.5" to 24.5".
To complete the re-vamp, the calf pad assembly has also been upgraded. The new design allows for quick rotational release, improved adjustment and adds a locked parked position. The new locked parked position of the calf pad facilitates the swinging away and or removal function of the front rigging by reducing the requirement for repositioning the occupant's calves.
The new Easy-Out™ options are compatible with the Fuze T20, T50, and JR, as well as the Bentley, the Stellar, Stellar GL, Stellar LEAP, and Stellar IMPACT.
See the order forms on the PDG website for detailed pricing.
All current (standard) front rigging options will continue to be available.
---


Learn more about PDG Mobility and our Wheelchairs: pdgmobility.com