Earlier this year, PDG Mobility launched its newly designed Easy-Out™ Front Rigging options. In this post, we will share a few short videos that demonstrate how, well, easy it is to use these new products.
The chart below summarizes the three available Easy-Out models: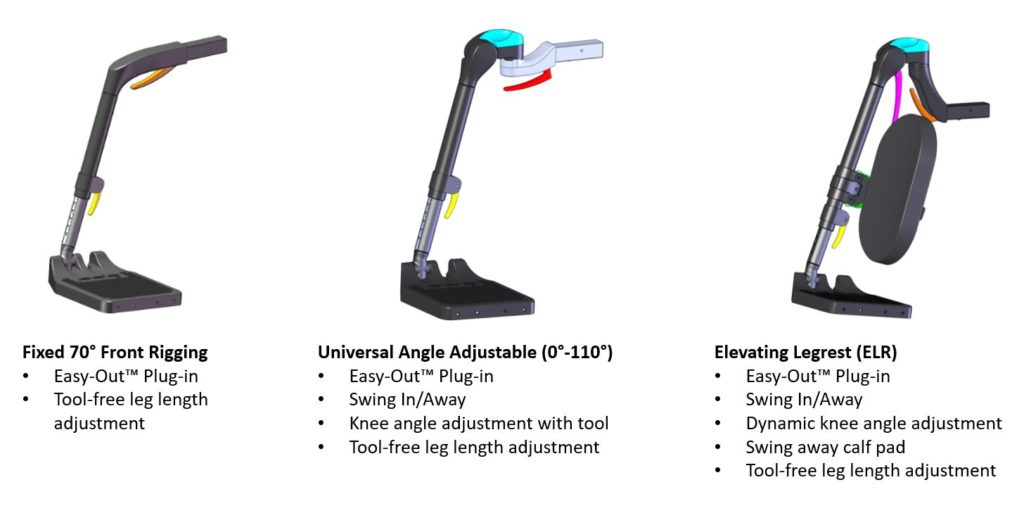 All three models are available now on the Fuze T20, T50, and JR, as well as on the Bentley and the Stellar series (incl. GL, LEAP, and IMPACT). For inquiries about retrofitting chairs in the field please contact our Customer Service team.
---
And now to the exclusive footage…
Video #1: Easy-Out Fixed 70°: Effortless removal of the entire assembly. No hanger bracket remains on frame.
---
Video #2: Tool-free legrest extension adjustment of all Easy-Out products. This video shows Easy-Out Fixed 70°.
---
Video #3: Tool-free legrest extension adjustment of the Fixed 70° from another viewing angle.
---
Video #4: Swing-in/away function with simple push-button activation plus full removal; available for Easy-Out Universal Angle Adjustable and Easy-Out Elevating Legrest models.
---
Video #5: The Easy-Out Universal Angle Adjustable model offers static angle adjustments from 0° (horizontal) through to 110° (contracture) at 10° increments.
---
Video #6: The Easy-Out Elevating Legrest (ELR) offers a high knee pivot with a reinforced premium calf pad mount. It allows for easy angle, height, and length adjustments on the fly.
---
Videos #7-9: The Elevating Legrest's integrated swing in/away function facilitates removal and remounting of the front rigging, as well as repositioning of the leg.
For your reference, you can find the original post about the Easy-Out launch here.
---


Learn more about PDG Mobility and our Wheelchairs: pdgmobility.com